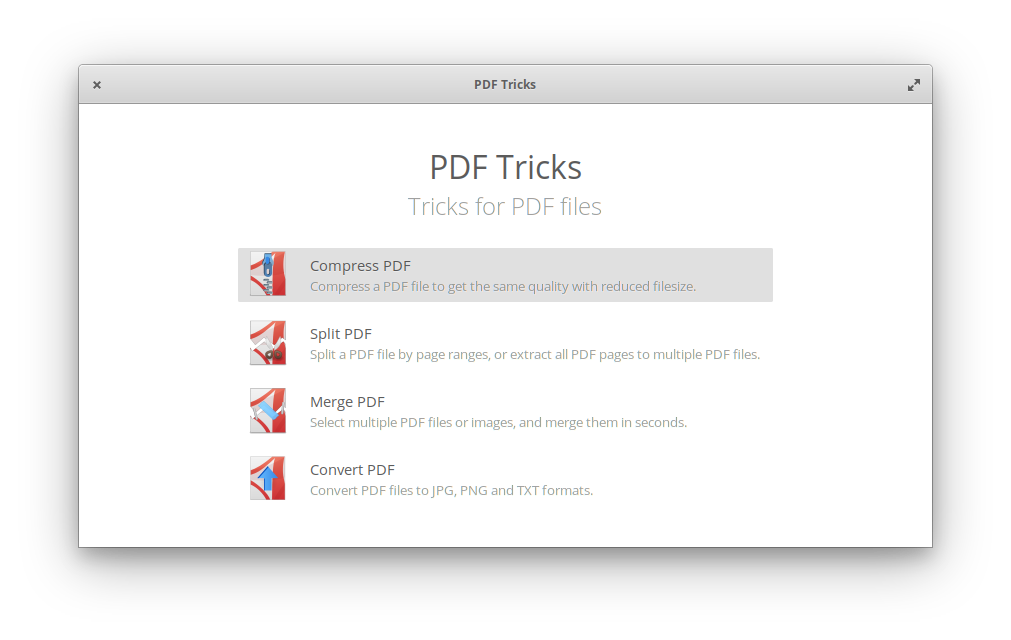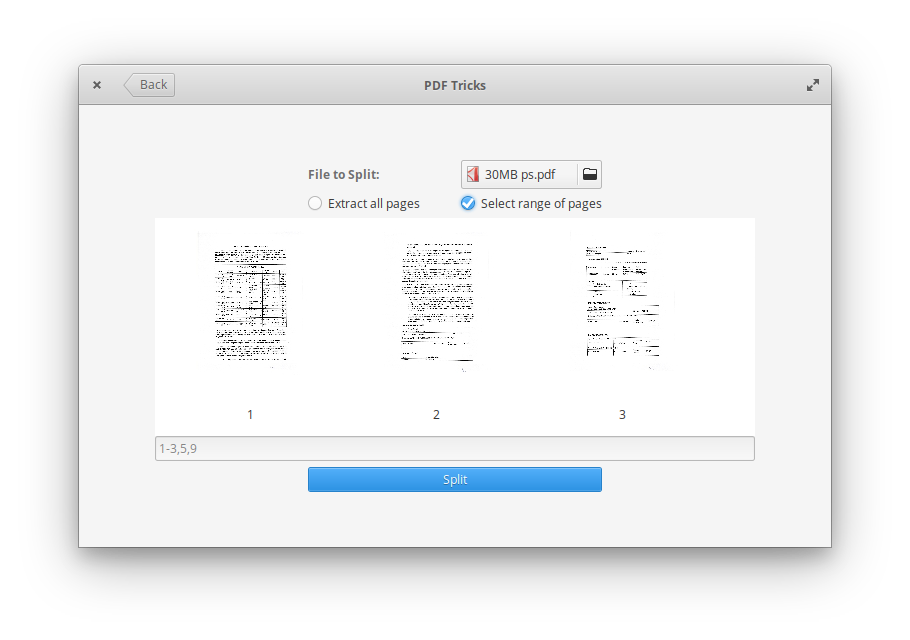 Tricks for PDF Files
A simple, efficient application for small manipulations in PDF files.
Compress PDF (multiple resolutions)
Split PDF (All pages or page ranges)
Merge PDF
Convert PDF
In recent versions of ImageMagick has been added a security policy that blocks manipulations in PDF files. This affects PDFTricks operations. To correct this change the settings of your ImageMagick installation. Check the homepage for instructions.
Get it for $2 on AppCenter
Get PDF Tricks and more on elementary AppCenter, the open, pay-what-you-can app store for indie developers. Every app is open source and has been reviewed and curated by elementary to ensure a native, privacy-respecting, and secure experience.
Note: This app is only available for elementary OS 5.1 Hera. If you're on elementary OS 6 Odin, it will not appear in AppCenter. You can reach out to the developer and ask that they update it for OS 6.
What's New:
0.3.1 – Apr 21, 2021

Default save location of compressed pdf to same as the original

New option to control thumbnail generation

Bugfix

Update Translations
0.3.0 – Jul 10, 2020

Bugfix

Update Translations
0.2.7 – Aug 13, 2019

New Icons

Update Translations
0.2.6 – Jun 24, 2019

Disable button when is processing

Fix build with vala 0.44

Update Translations

Bugfix
0.2.5 – Apr 22, 2019

spinner when processing
0.2.4 – Apr 9, 2019

Fix unselectable texts after merging
0.2.3 – Mar 11, 2019

Fix density merge PDF
0.2.2 – Feb 22, 2019

Compression levels

Bugfix
0.2.0 – Feb 8, 2019

Convert PNG, JPG, SVG, BMP to PDF

Merge image files into PDF
0.1.7 – Jan 11, 2019

Convert JPG to PDF

Split pages by color (Black-White / Colored)
0.1.5 – Jan 4, 2019

Convert PDF

Bugfix
0.1.4 – Jan 1, 2019

Bugfix
0.1.2 – Dec 24, 2018

Compress File

Split File

Merge File