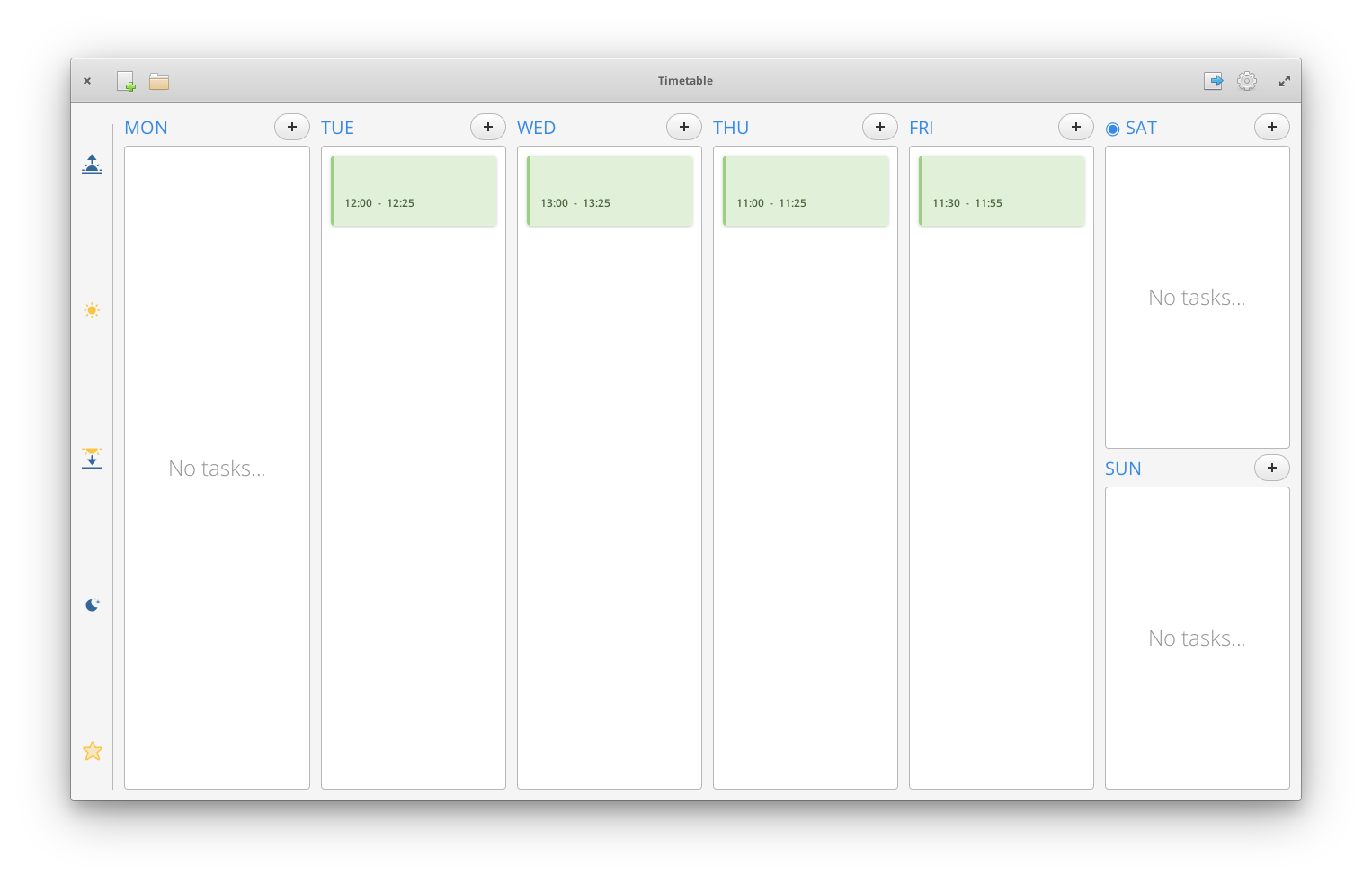 Plot out your own timetable for the week and organize it
Start organizing each day with the columns and export your timetable away in an easy way
Intelligently start building your timetable with the day columns
Quit anytime with the shortcut Ctrl + Q
Get it for $5 on AppCenter
Get Timetable and more on elementary AppCenter, the open, pay-what-you-can app store for indie developers. Every app is open source and has been reviewed and curated by elementary to ensure a native, privacy-respecting, and secure experience.
Note: This app is only available for elementary OS 5.1 Hera. If you're on elementary OS 6 Odin, it will not appear in AppCenter. You can reach out to the developer and ask that they update it for OS 6.
What's New:
1.1.0 – Jan 30, 2020

Release: Leaner & Meaner
1.0.9 – Sep 30, 2019

Release: Stacked Weekends

Modified: Weekends are now stacked.
Fixed: Maximization problems.
1.0.8 – Aug 16, 2019

Release: Tasked Tasks

Fixed: Task preferences weren't being set.
1.0.7 – Aug 5, 2019

Release: Draggy Days

Fixed: Drag and drop your tasks away and organize them that way.
1.0.6 – Mar 15, 2019

Release: Wispy Weekends

Fixed: Hiding and showing the weekend columns now is respected across app openings.
1.0.5 – Mar 1, 2019

Release: Color and Save Tasks

Fixed: Exporting and opening tasks should preserve their colors as well.
1.0.4 – Mar 1, 2019

Release: User Experienced Tasks

New: Open any .org files exported by Timetable.
Removed: Notifications system as it was useless since Timetable couldn't notify if closed.
1.0.3 – Nov 23, 2018

Release: User Experienced Tasks

New: Tasks can be set to have an optional notification when they start.
Fix: The grid of Day columns doesn't dictate the size of the app anymore, allowing the app to be resized to a smaller size.
1.0.2 – Oct 26, 2018

Release: All-Day Bonanza

New: Tasks can now be set to be an all-day task.
New: Tasks' colors can be changed between 3 themes.
Fix: Tasks have been rejigged to not expand the app as well as make each task look nicer.
Fix: Daycolumns have been rejigged to be less wide.
Fix: General theme coloring support in the custom widgets.
1.0.1 – Oct 19, 2018

Release: Weekend Taskin'

New: Weekend column to plot tasks, show it or not.
Fix: Tasks are now by start time instead of haphazardly placed.
1.0.0 – Oct 15, 2018

Release: Tasks Have Time

New: Set tasks times from and to.
Fix: Task clear color button, for when you want no color in your task.
0.0.1 – Oct 15, 2018

Release: Initial Plotting