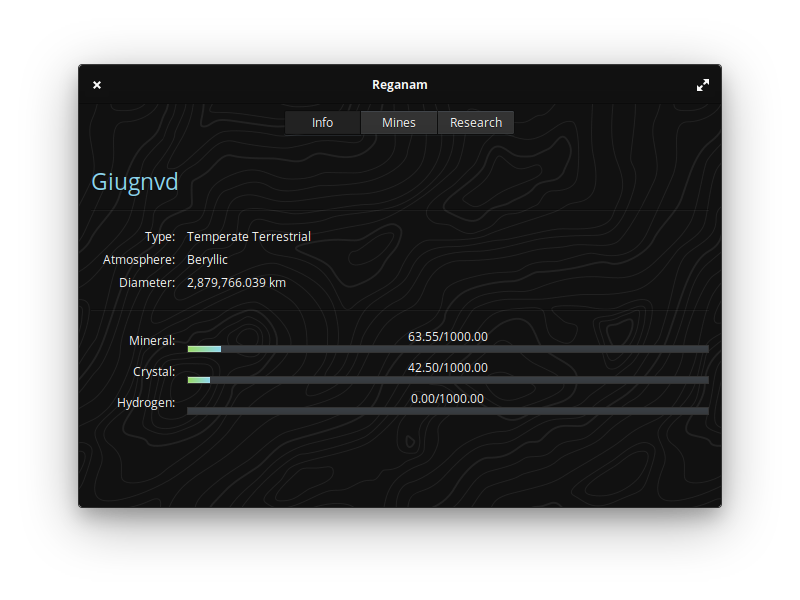 Resource Management game set in space
Build up your planet's buildings and grow yourself a ecumenopolis of native aliens. Get mines of minerals, crystals and even hydrogen to build more structures and synthesizers.
Quit anytime with the shortcut Ctrl + Q
Get it for $3 on AppCenter
Get Reganam and more on elementary AppCenter, the open, pay-what-you-can app store for indie developers. Every app is open source and has been reviewed and curated by elementary to ensure a native, privacy-respecting, and secure experience.
Note: This app is only available for elementary OS 5.1 Hera. If you're on elementary OS 6 Odin, it will not appear in AppCenter. You can reach out to the developer and ask that they update it for OS 6.
What's New:
1.1.4 – Jan 23, 2019

Release: Minor Bump
1.1.3 – Sep 23, 2019

Release: Minor Bump
1.1.2 – Sep 23, 2019

Release: Population, Please Leave My Metal Alone!

Fixed usage of metal to hydrogen instead for building houses
1.1.1 – Jun 29, 2019

Release: Patched Synths, part 2

Minor fixes in the research level algorithms
1.1.0 – Jun 28, 2019

Release: Patched Synths
1.0.9 – Jun 27, 2019

Release: Planet Buster

Add: Reset All Button under a Cog menu.
Add: Population Housing research
Fix: Synthesizers pricing bug
1.0.8 – Jun 25, 2019

Release: Storage Upgrade

Fix: Storage pricing bug
Fix: People Housing pricing bug
1.0.5 – Jun 22, 2019

Release: Welcome to the Planet

Add: People and Housing.
Fix: When Max level is reached, build/research buttons are disabled.
Fix: More text available to be translated.
1.0.4 – Jun 21, 2019

Release: Reserch Labs Operational

Fix: The research lab levels are now reported.
1.0.3 – Jun 15, 2019

Release: Fix and Smash Bugs

Fix: There was some game locking bugs happening that would make the game unplayable. (fixed by Kai Gillmann [Silberling on GitHub])
1.0.2 – May 31, 2019

Release: Day 1 Patch
1.0.1 – May 31, 2019

Release: Day 1 Patch
1.0.0 – May 31, 2019

Release: Stable