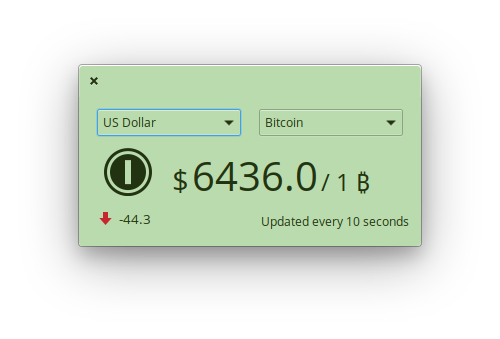 Never miss out on the monetary value of a virtual currency with this handy applet
Track the virtual currencies in real world currency value with this handy applet
Choose which currency and virtual currency to use for tracking
Quit anytime with the shortcut Ctrl + Q
Move the applet by dragging it from anywhere in the window
Stays out of your way in the desktop
Get it on AppCenter
Get Coin and more on elementary AppCenter, the open, pay-what-you-can app store for indie developers. Every app is open source and has been reviewed and curated by elementary to ensure a native, privacy-respecting, and secure experience.
Note: This app is only available for elementary OS 5.1 Hera. If you're on elementary OS 6 Odin, it will not appear in AppCenter. You can reach out to the developer and ask that they update it for OS 6.
What's New:
1.3.0 – Feb 7, 2020

Release: Portuguese Reis

Added: Hungarian Forint.
Fixed: Symbols of Bitcoin Cash, Tezos and Cardano Ada.
1.2.8 – Jan 30, 2020

Release: Greek Drachma
1.2.7 – Jan 15, 2020

Release: Italian Lire

Added translations into Turkish.
Updated translations into Dutch, French.
Added Cardano and Tezos currencies.
1.2.5 – Mar 15, 2019

Release: Spanish Peso

Added translations into Spanish, French, Japanese, Dutch, and Catalan.
Minor fixes.
1.2.4 – Sep 7, 2018

Release: Ticker Ticking

A new change of value ticker for the day.
Added Bitcoin Cash virtual currency.
1.2.3 – Jul 13, 2018

Release: 1 2 3, hello Juno!
1.2.1 – Apr 7, 2018

Release: Worldwide Assets

The names of the currencies are now translatable.
1.2.0 – Oct 27, 2017

Release: Minor Payments
1.1.9 – Oct 20, 2017

Release: High Definition Money

Made the layout of the app more simple.
Uses the full names of the coins & currencies now.
Adds support for high definition icons.
1.1.8 – Oct 13, 2017

Release: Reinjecting the Assets

Remembers the pair of currency & coin that you chose.
Minor fixes to make Coin more aesthetically appealing.
1.1.7 – Sep 17, 2017

Release: Olá, Brasil!

Add Brazilian Portuguese translations.
1.1.6 – Sep 17, 2017

Release: Style My Assets, Sir!

Use GResources to load the GTK CSS Styling
1.1.5 – Sep 7, 2017

Release: Money Makes The World Go Round

Enable Coin for translators
Add XAR coin.
Add South African Rand (ZAR).