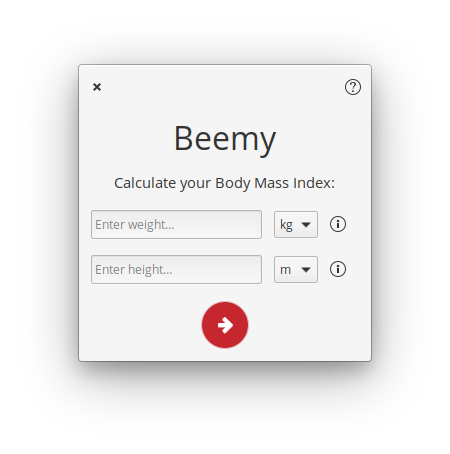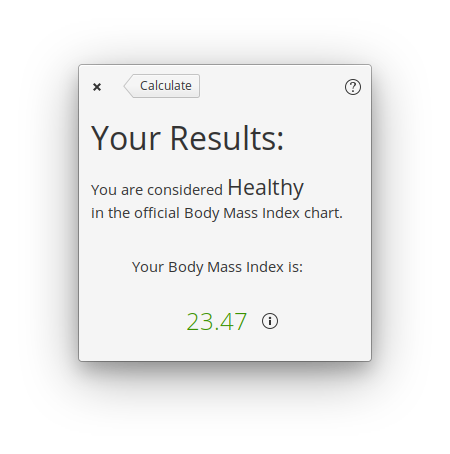 A cute little Body Mass Index calculator
A cute little Body Mass Index calculator for health tracking purposes
Quit anytime with the shortcut Ctrl + Q
Move the applet by dragging it from anywhere in the window
Get it for $1 on AppCenter
Get Beemy and more on elementary AppCenter, the open, pay-what-you-can app store for indie developers. Every app is open source and has been reviewed and curated by elementary to ensure a native, privacy-respecting, and secure experience.
Note: This app is only available for elementary OS 5.1 Hera. If you're on elementary OS 6 Odin, it will not appear in AppCenter. You can reach out to the developer and ask that they update it for OS 6.
What's New:
1.0.5 – Jan 15, 2020

Release: Small Gains II

Added: Translation
Small fixes
1.0.4 – Mar 15, 2019

Release: Small Gains
1.0.3 – Nov 16, 2018

Release: Obese No More

Fix: Obese/Overweight labels mixup fixed, now follows the BMI chart
1.0.2 – Sep 30, 2018

Release: Be Balanced

Set the Calculate button's interactivity based if there's data or not
Use Centimeters for height!
1.0.1 – Sep 21, 2018

Release: Keeps The Doc Away!

Fix calculation on Imperial Units
New polished icon
1.0.0 – Sep 14, 2018

Release: An Apple a Day…