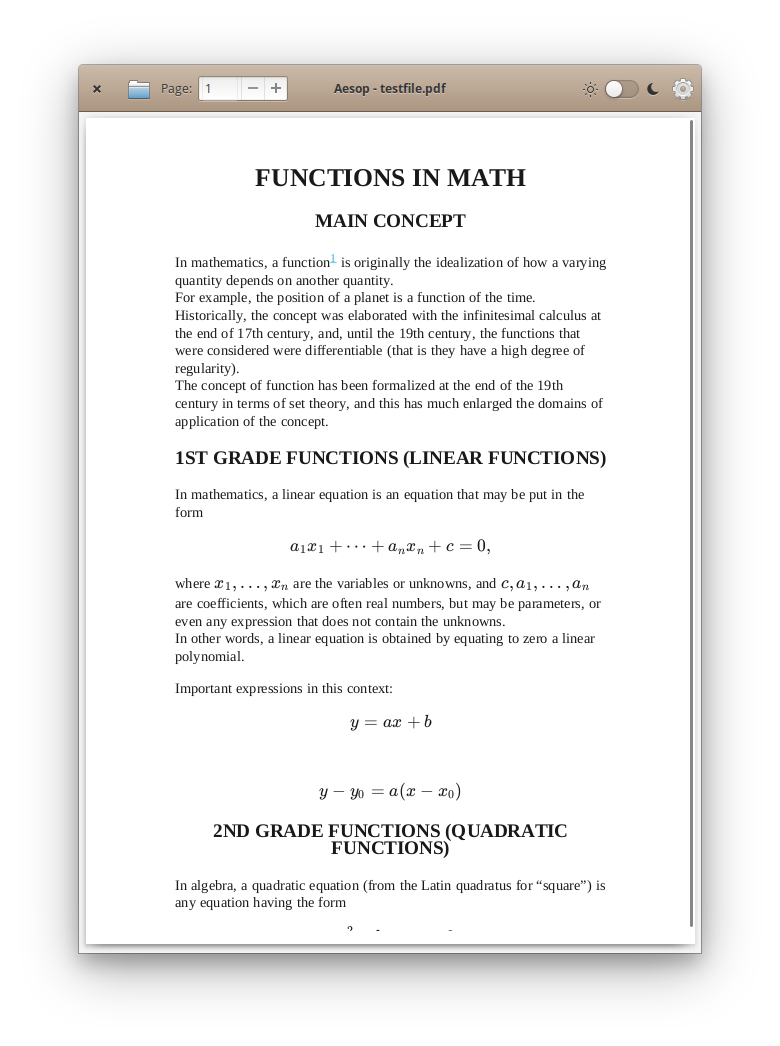 The simplest PDF viewer around
Open up any of your PDF files and enjoy reading it from the comfort of this application
Quit anytime with the shortcut Ctrl + Q
Open any PDF file from anywhere, even externally
Print the current viewed document
Get it for $1 on AppCenter
Get Aesop and more on elementary AppCenter, the open, pay-what-you-can app store for indie developers. Every app is open source and has been reviewed and curated by elementary to ensure a native, privacy-respecting, and secure experience.
Note: This app is only available for elementary OS 5.1 Hera. If you're on elementary OS 6 Odin, it will not appear in AppCenter. You can reach out to the developer and ask that they update it for OS 6.
What's New:
1.2.2 – Apr 24, 2020

Release: Dagger

Added: New UI handling of PDF pages, and maximization is possible now.
1.2.1 – Mar 3, 2020

Release: Ampersand

Fixed: Major crash when opening PDFs.
1.2.0 – Jan 30, 2020

Release: Page Ears
1.1.4 – Jan 15, 2020

Release: Turn of Pages

Fixed: Zoom properties.
Added: Translations.
1.1.0 – Aug 5, 2019

Release: Flourish

Fixed: Page button now displays correct page number, and the page on app opening is also correct.
Fixed: Page size now takes advantage of the window to size itself.
1.0.7 – Apr 26, 2019

Release: Guillemet

Fixed: The app would open other files than PDFs.
Fixed: The app couldn't be maximized.
Fixed: Some translations weren't working.
1.0.6 – Mar 15, 2019

Release: Bullet Point
1.0.5 – Oct 5, 2018

Release: Page Marker

Added new "Live Mode" setting in the preferences menu.
1.0.4 – Aug 15, 2018

Release: Page Marker

Set the page button to only be interactable when actually opening PDFs.
1.0.3 – Jul 4, 2018

Release: Fireworks Inkblot

Fixed page jumper not showing certain pages.
Fix the size of the virtual page to fit within the PDF's sizes.
Fix maximization on small screens.
1.0.1 – Jun 22, 2018

Release: Ecofriendly Printing

Fixed inverted view printing black pages instead of the actual document.
Open PDFs externally.
Added a way to zoom in/out in the main menu.
1.0.0 – Jun 22, 2018

Release: Come Hither and Read