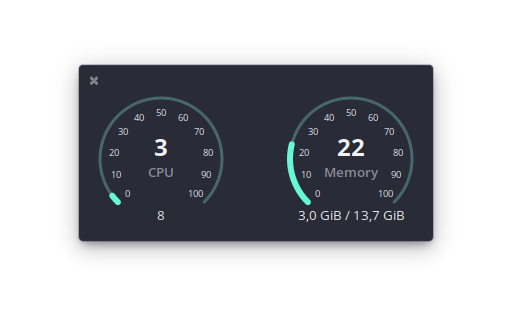 A monitor widget.
See percentage of use your CPU and number of cores. Also percentage used memory, amount of memory used and total memory.
Stays out of your way by always sticking to the desktop
Move the window by dragging any part of it
Quit with the handy shortcut Ctrl + Q
Get it on AppCenter
Get Monilet and more on elementary AppCenter, the open, pay-what-you-can app store for indie developers. Every app is open source and has been reviewed and curated by elementary to ensure a native, privacy-respecting, and secure experience.
Note: This app is only available for elementary OS 5.1 Hera. If you're on elementary OS 6 Odin, it will not appear in AppCenter. You can reach out to the developer and ask that they update it for OS 6.
What's New:
0.2.2 – Feb 9, 2020

Release: It works on small details, such as languages and store previews.

Add French to the supported languages.
Fixed the preview error in the store.
0.2.1 – Jan 10, 2020

Release: Add Polish to the supported languages.
0.2.0 – Dec 14, 2019

Release: Arriving in Juno.
0.1.8 – Jan 25, 2018

Release: Fixed of the capacity of minimization and form.

Now it is not minimized by pressing the icon in the dock.
Again it shows the rounded edges.
The close button is present again but the color of the widget.
0.1.5 – Jan 16, 2018

Release: Add icons, hide the base icon and remove the close button.

Added icons in different sizes (128, 64, 48, 32)
It is no longer shown in the dock
The close button was removed