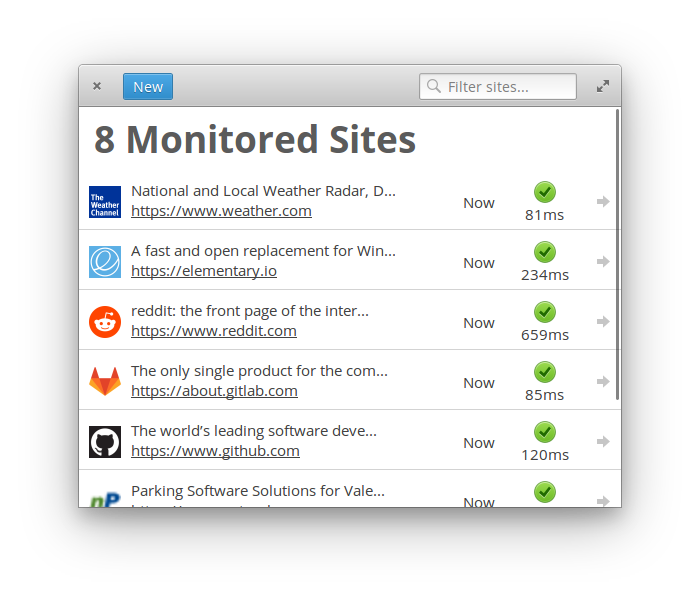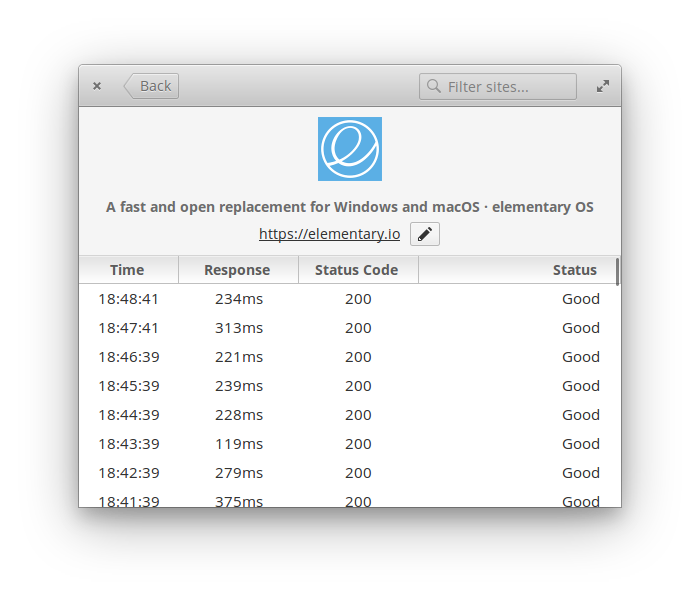 Know when your websites are misbehaving!
A simple way to monitor your favorite sites uptime and their performance.
All history is kept so you can review performance over a period of time. Web watcher runs through your connection so no external service is required. When an outage occurs you'll receive a notice immediately.
Easily add as many sites as you wish to monitor
All sites are checked every minute
Extra meta-data (title and icon) are automatically grabbed
Get a notification if a site goes down or comes back up
View all historical data for the past 2 hours (with eventual capabilities to export all data)
Does not require an external service (uses local network to check sites)
Runs in background automatically once started via System tray indicator
All sites are easily accessible through the System Tray indicator
Get it for $3 on AppCenter
Get Web Watcher and more on elementary AppCenter, the open, pay-what-you-can app store for indie developers. Every app is open source and has been reviewed and curated by elementary to ensure a native, privacy-respecting, and secure experience.
Note: This app is only available for elementary OS Loki. If you're on elementary OS 5.1 Hera or newer, it will not appear in AppCenter. You can reach out to the developer and ask that they update it for Hera.
What's New:
1.1.0 – May 10, 2018

Added ability to delete a site
Added app preferences
Minor tweaks/adjustments
1.0.1 – May 4, 2018

Fixed an issue where tray does not appear on first load making it hard to close app
1.0.0 – May 4, 2018

Initial 1.0.0 release!