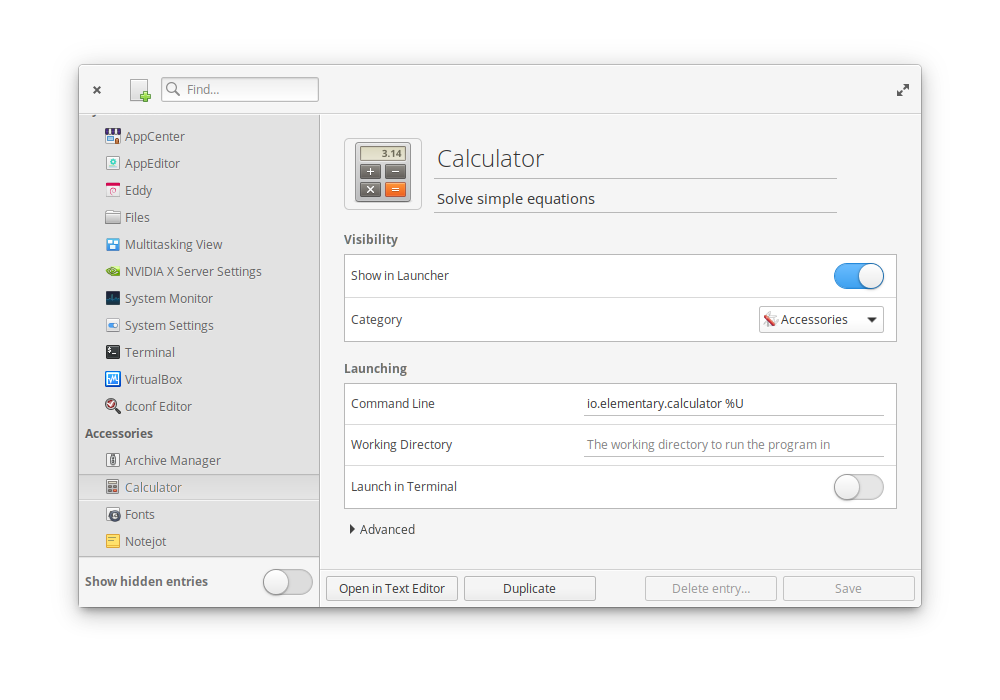 Edit application menu
Edit application entries shown in application menu and their properties.
Features include:
Hide and show applications from the application menu
Create new application entries
Change application's display name, icon and more
Get it for $5 on AppCenter
Get AppEditor and more on elementary AppCenter, the open, pay-what-you-want app store for indie developers. Every app is open source and has been reviewed and curated by elementary to ensure a native, privacy-respecting, and secure experience.
Note: This app is only available for elementary OS 5.1 Hera. If you're on elementary OS 6 Odin, it will not appear in AppCenter. You can reach out to the developer and ask that they update it for OS 6.
What's New:
1.1.1 – Apr 17, 2020

This release includes translation updates:

Dutch translation (Heimen Stoffels)
Spanish, Catalan translation (Adolfo Jayme-Barrientos)
Japanese translation (Ryo Nakano)
French translation (Nathan Bonnemains, dabou)
Turkish translation (Serdar Sağlam)
Russian translation (Camellan)
Lithuanian translation (welaq)
Italian translation
1.1.0 – Aug 11, 2018

This release includes added support for elementary OS Juno, miscellaneous improvements and new translations:

German translation (ChristianPauly)
Japanese translation (Ryo Nakano)
Brazilian Portuguese translation (Filipe de Almeida Garrett)

New features:

It is now possible to create a menu entry directly from the file manager: right click on an executable file and choose "Create a Menu Entry"
New shortcuts added:
Ctrl+N: Create a new menu entry
Ctrl+F: Focus the search entry
Ctrl+D: Duplicate selected entry

Fixed:

Some strings are not displayed in translated languages (Ryo Nakano)
Improper escaping of special characters in display name and description
1.0.0 – Jan 15, 2018

This release contains many new features and bug fixes as well as added suport for translations:

French translation (dabou)
Russian translation (Cammelan)
Spanish translation (Juan Gómez Carrillo)

New features:

Added a button to duplicate a specifc application entry
New "Advanced" section: add a new "Uses Notitifications" key

Fixed:

Fixed crashes when saving an entry with an equal sign in it's command line property
Sometimes deleting a local entry would cause it to stay in the sidebar until the next launch
Sometimes creating a new entry caused a crash
The page would not update after saving the entry

Miscellaneous:

Save unsaved entries when quitting the application
Clear the search entry when creating a new application entry
0.9.3 – Aug 20, 2017

New features:

Added a button to open the entry in a text editor
Added a switch to show hidden entries (disabled by default)

Miscellaneous:

Fixed some applications like Inkscape not saving their name properly
The main window can be now maximized
0.9.2 – Aug 15, 2017

Add meson dependency to debian packaging
0.9.1 – Aug 15, 2017

Fix debian packaging
0.9.0 – Aug 15, 2017

Initial release