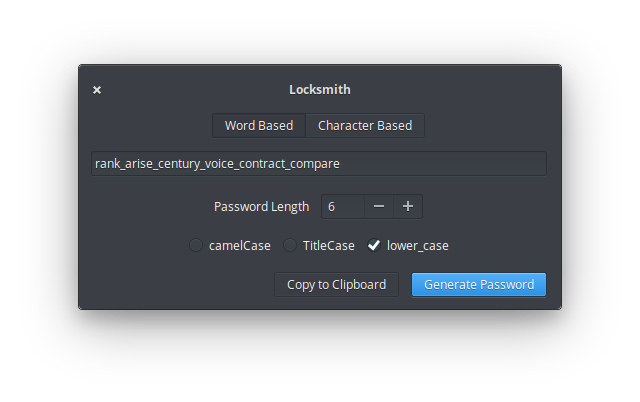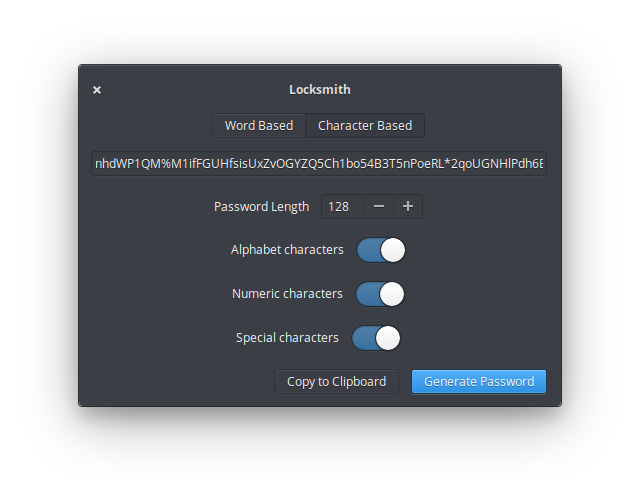 Generate strong, secure passwords
Locksmith is an application for generating secure passwords. It provides tools for both memorable word-based passwords and random alpha-numeric passwords.
Get it for $1 on AppCenter
Get Locksmith and more on elementary AppCenter, the open, pay-what-you-can app store for indie developers. Every app is open source and has been reviewed and curated by elementary to ensure a native, privacy-respecting, and secure experience.
Note: This app is only available for elementary OS 5.1 Hera. If you're on elementary OS 6 Odin, it will not appear in AppCenter. You can reach out to the developer and ask that they update it for OS 6.
What's New:
1.6.0 – Nov 20, 2019
1.5.1 – Apr 15, 2019
1.4 – Jan 10, 2019

Special characters in character-based passwords
Copy to clipboard button to make copying passwords more convenient
1.3.2 – Sep 7, 2018

Fixed capitalization and spacing for the AppCenter listing
1.3.1 – Aug 31, 2018

Locksmith now looks more like the built in elementary OS tools, so you can feel at home using it.
1.3.0 – Aug 27, 2018

Update UI to more closely match elementary OS design guidelines
1.2.0 – Aug 24, 2018

Locksmith now restores its previous state when re-opened
1.1.0 – Aug 24, 2018

Locksmith can now generate word-based "xkcd style" passwords
1.0.0 – Jun 4, 2018

Initial 1.0.0 release!