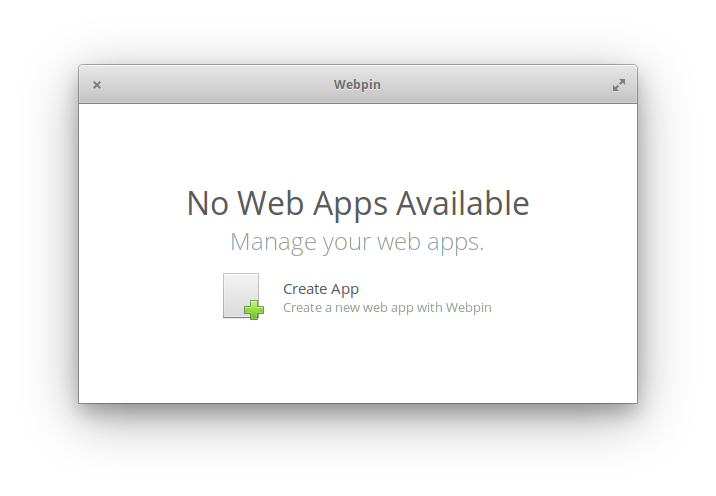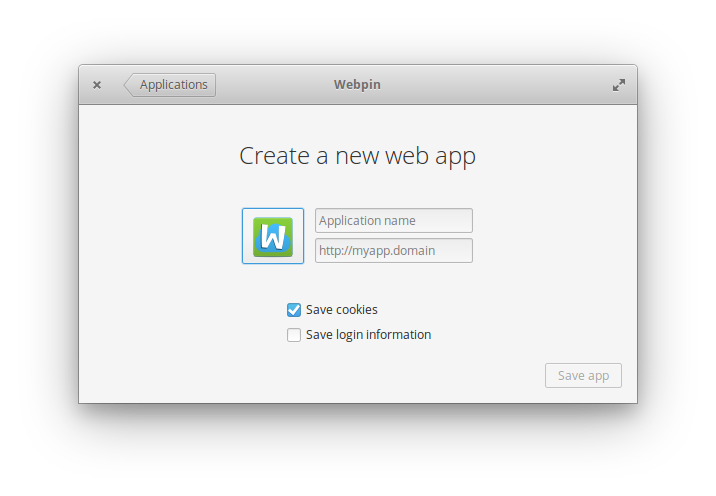 A simple app to pin websites on the desktop
Create your own WebApps. Pin your any favorite website on Applications Menu or Plank like a regular desktop app.
Webpin is a fork of Webby (by Erasmo Marín).
Get it for $1 on AppCenter
Get Webpin and more on elementary AppCenter, the open, pay-what-you-can app store for indie developers. Every app is open source and has been reviewed and curated by elementary to ensure a native, privacy-respecting, and secure experience.
Note: This app is only available for elementary OS 5.1 Hera. If you're on elementary OS 6 Odin, it will not appear in AppCenter. You can reach out to the developer and ask that they update it for OS 6.
What's New:
1.0.5 – Mar 24, 2021

New:

Gesture navigation (by Cassidy James Blaede)

Fixed:

Crash when press '0'
Some improvements by Nathan Bonnemains

Translation:

Polish (by Michał Nowakowski)
French (by Nathan Bonnemains)
1.0.4 – Jul 15, 2019

New:

Enable Media Source Extensions (by Cassidy James Blaede)

Translation:

Dutch (by Heimen Stoffels)
Spanish (by Manueljlin)
Lithuanian (by welaq)
1.0.3 – Nov 18, 2018

New:

Theme switcher
Option for minimal UI

Improved:

Cache choosed icon instead to reference it
1.0.2 – Nov 2, 2018

New:

Sort items inside app overview

Fixed:

Custom icon was replaced by default one
1.0.1 – Oct 30, 2018

New:
1.0.0 – Oct 20, 2018

New:

Moved to Meson
Support for local .html files

Fixed:

Restore correct window size
Grabing page icon

Translation:

Dutch (by Heimen Stoffels)
0.3.0 – Jul 24, 2018
0.2.10 – Apr 25, 2018

Fixed:

Restore window position for hidden apps
0.2.9 – Mar 10, 2018

Improved:

Desktop Action Menu
Small UI fixes
0.2.8 – Feb 12, 2018

New:

back/forward navigation by mouse buttons (8/9) (Thanks to Julian Raschke)

Improved:
0.2.6 – Feb 5, 2018

New:

Save and restore window position
Grab favorite icon

Fix:
0.2.5 – Dec 17, 2017

Translation:

Russian (by Camellan)
Lithuanian (by welaq)
0.2.4 – Nov 27, 2017

New:

Option for Dark Theme
Grab 'theme-color' (if exists) from called website
0.2.3 – Nov 20, 2017

Fix:

Custom settings in .desktop
0.2.2 – Nov 20, 2017

Fix:

Custom settings in .desktop
0.2.1 – Nov 18, 2017

Fix:
0.1.13 – Nov 18, 2017

Fix:
0.1.12 – Nov 13, 2017

Fix:

Set custom color for headerbar
0.1.11 – Nov 13, 2017

Fix:

Set custom color for headerbar
0.1.10 – Nov 11, 2017

New:

Set custom color for headerbar

Fix:

Open application on clicking desktop notification

Translation:
0.1.9 – Oct 15, 2017

New:

Copy current URI into clipboard

Fix:

Open WebApp on single click instead double click