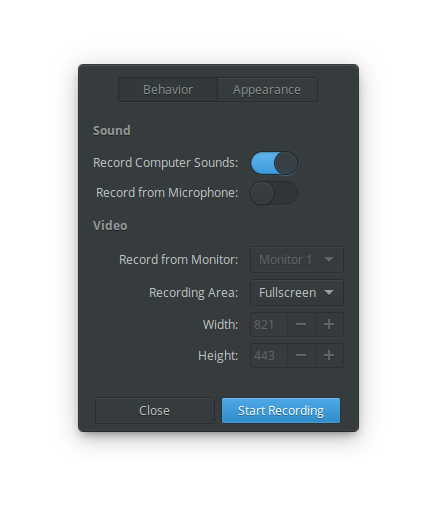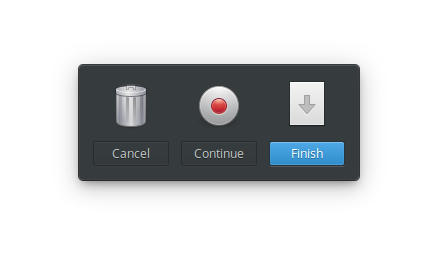 A simple screen recorder
Screencast makes it simple to record your screen for making something like video tutorials
Record the whole screen
Select an area of the screen to record
Display pressed keys
Record audio along with the screen recording
Encodes to webm
Screencast is a fork of Eidete.
Get it for $1 on AppCenter
Get Screencast and more on elementary AppCenter, the open, pay-what-you-can app store for indie developers. Every app is open source and has been reviewed and curated by elementary to ensure a native, privacy-respecting, and secure experience.
Note: This app is only available for elementary OS 5.1 Hera. If you're on elementary OS 6 Odin, it will not appear in AppCenter. You can reach out to the developer and ask that they update it for OS 6.
What's New:
1.0.0 – Jul 15, 2019

Translation:

German (by Maik Marschner)
Russian (by Stas)
French (by eurruby)
Portuguese (by Fernando Júnior, Deyvison Rocha)
Dutch (by Heimen Stoffels)
0.3.0 – Jul 24, 2018

Translation:
0.2.4 – Mar 30, 2018

Improved:

Don't hide control window from dock panel

Translation:

Serbian (by Pavle Radosavljević)
Lithuanian (by welaq)
0.2.3 – Mar 10, 2018

Improved:

Desktop Action Menu
.desktop, appdata descriptions (by aljelly)

Translation:

German
Spanish (by Franklin Ruiz)
Lithuanian (by welaq)
0.2.2 – Mar 5, 2018

New:

Custom delay in seconds
Desktop Actions: Record/Pause, Finish
Start recording instand from Plank
Indicator Menu
Media Key Listener

Translation:

Lithuanian (by welaq)
Spanish (by Juan Velandia)