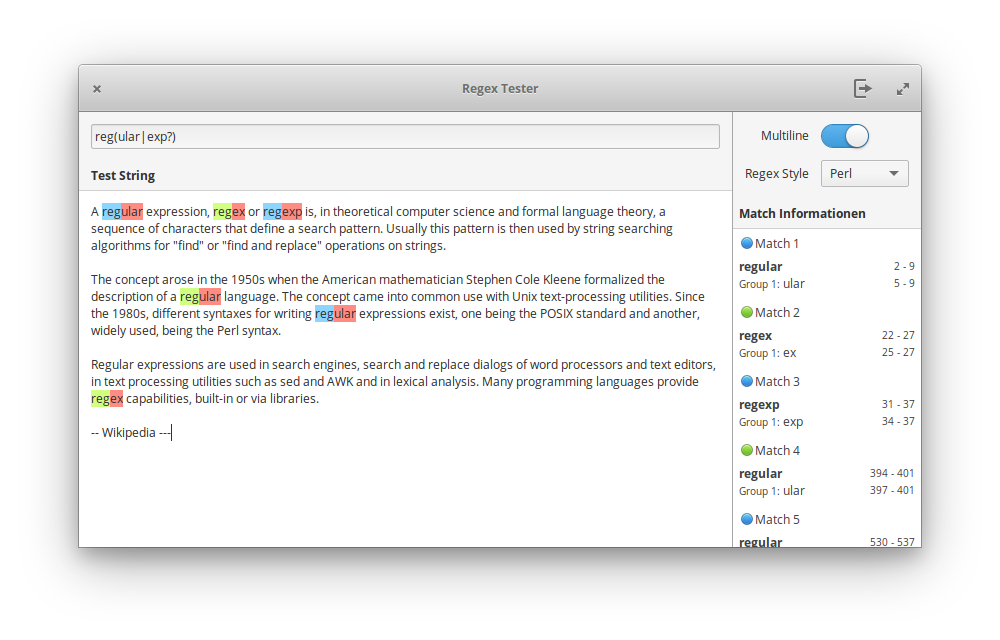 A simple app for testing regular expressions
A regular expression is a special text string that describes a search pattern. Regex Tester shows all matches of search pattern in a string.
Get it for $1 on AppCenter
Get Regex Tester and more on elementary AppCenter, the open, pay-what-you-can app store for indie developers. Every app is open source and has been reviewed and curated by elementary to ensure a native, privacy-respecting, and secure experience.
Note: This app is only available for elementary OS 5.1 Hera. If you're on elementary OS 6 Odin, it will not appear in AppCenter. You can reach out to the developer and ask that they update it for OS 6.
What's New:
1.1.1 – Mar 24, 2021

Fixed:

Crash when press '0'
Some improvements by Nathan Bonnemains
1.1.0 – Jul 17, 2019

New:

Translation:

French (by Nathan Bonnemains)
1.0.2 – Nov 1, 2018
1.0.1 – Oct 24, 2018

Fixed:

Restore correct window size

Translation:

Dutch (by Heimen Stoffels)
0.2.0 – Jul 24, 2018
0.1.7 – Feb 20, 2018
0.1.6 – Feb 6, 2018
0.1.5 – Nov 10, 2017

New: